Knoxville Electric Vehicle Association
We are Knoxville's leading non-profit dedicated to educating the public on the benefits of driving electric. Functioning as a regional chapter of the Electric Auto Association since 2010. Our monthly meetings and events are great places to come talk to daily EV drivers and have your questions answered as well as a community for EV enthusiasts. If you have never driven an EV we would love the opportunity to put you in the drivers seat at any of our meetings or various EVents.
Upcoming EVents
Here's a quick snapshot of what we have going on in the next few months.
May Monthly Meeting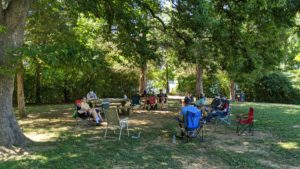 Hi everyone! We are going back to in person meetings but still outside and spaced out at our old favorite, Carl Cowan park since it has plenty of shade trees. We are investigating other locations that could possibly have charging so make sure to check the location each month for any updates. This meeting will have an important vote on making our partnership with Drive Electric Tennessee official as part of the DET Knoxville chapter. This will be in addition to us being an EAA chapter.  We are just making our synergies official by voting on it. 
Porsche Taycan launch event
Just to let people know, Harper Porsche will be introducing the new rear wheel drive Taycan on Saturday before our meeting (9am-11am) if you would like to go see and possibly test drive that luxury sport EV. Just make it back in time for our important meeting!! https://www.facebook.com/events/2933287976994509/ 
Meeting Agenda 
Member introduction
Any updates from members 
Motion for KEVA to Align with Drive Electric Tennessee (DET) as a DET Chapter:

The Knoxville Electric Vehicle Association (KEVA) authorizes the Chapter President to take steps to align with and identify as a participant/partner in Drive Electric Tennessee to strengthen and extend our ability to carry out our mission of promoting adoption of electric vehicles and related issues (e.g., public charging).  The president's authority in this matter includes adoption of any formal agreements that are consistent with KEVA's mission and independence as an organization, and with KEVA's affiliation with the Electric Auto Association.  Under such agreements, it is expected that KEVA will continue to carry out its own activities and will, when beneficial to both KEVA and DET, partner in or assist with other efforts in promotion of electric vehicle adoption.  The president may make such financial commitments related to KEVA's role as a DET chapter as may be allowed by KEVA's ByLaws.  KEVA will maintain all autonomy as an independent organization.  This partnership will not impact KEVA's ability to manage it's officers, goals, plans and activities as it wishes but will hopefully be synergistic.

Please come prepared with any questions/changes about the motion. 
Report on all the Drive Electric Earth Day events around the area last month.
Who has pictures from our Cars and Coffee Event?? Are we in Harpers drone pictures?
Denso EV day at their plant?
Additional updates from DET? License plate update?
That time of year, let's discuss our electric lawn care equipment. Does Knoxville have a carbon neutral lawn care service? 
Tons of EV news we can talk about.
Meeting date and time: Saturday May 8th 11:00am 
Meeting location: Carl Cowan Park 10058 S Northshore Dr, Knoxville, TN 37922
We will meet in the back area of the park past the kids splash pad area, where there is a large shaded area with some picnic benches. Bring your chairs to sit out. There is plenty of parking and bathrooms onsite. Sorry there is no charging at this location.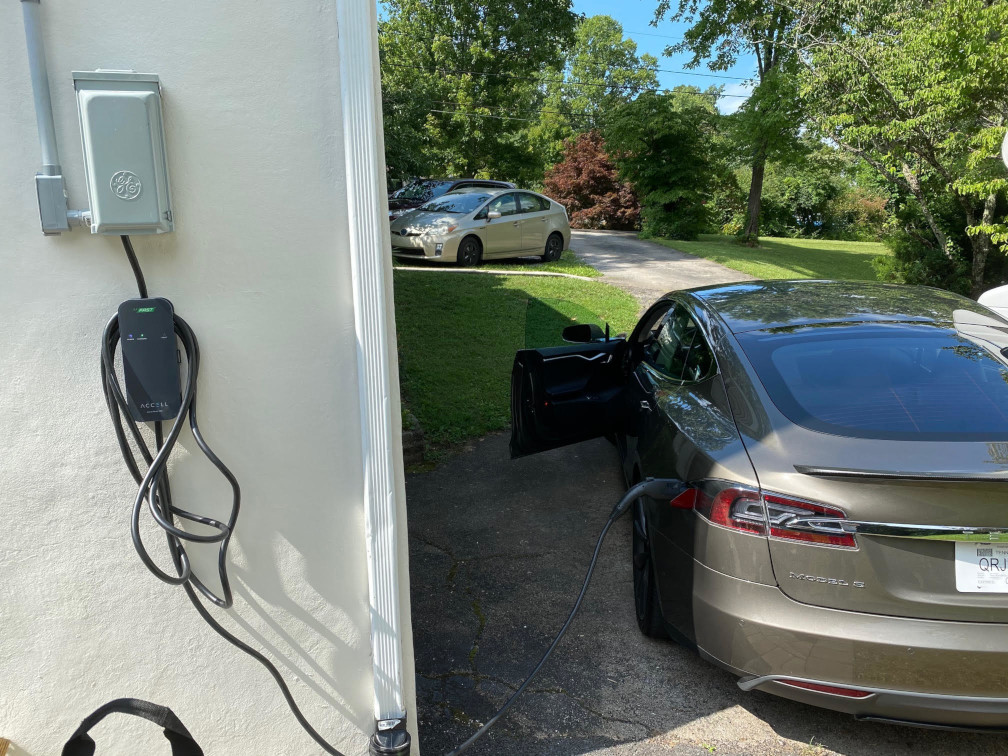 90% of all EV charging is done at home
Every EV sold today comes with a 110 volt charger. We recommend people install a 240 volt charger in their garage since the latest EVs have larger battery packs this will minimize the time it takes to charge your EV. Most people already have access to 240v in their garage as this is the typical voltage for clothes dryers.
3 cents a mile
The typical efficiency of electric vehicles is 3 miles a KWH. The average cost of a KWH of electricity in Tennessee is about 10 cents.  Simple math means you only pay 3.3 cents per mile. Even better news is that EV makers are pushing the efficiency to 4 miles or more per KWH thus making the cost even cheaper!