The
Knoxville Electric Vehicle Association
(KEVA)
is Knoxville's leading non-profit dedicated to educating the public on the benefits of driving electric. Functioning as a regional chapter of the 
Electric Vehicle Association
 since 2010. Our monthly meetings and events are great places to come talk to daily EV drivers and have your questions answered as well as a community for EV enthusiasts. If you have never driven an EV we would love the opportunity to put you in the driver's seat at any of our meetings or various events.
KEVA monthly meetings are the second Saturday of every month, usually at 11:00 AM at Carl Cowan Park on Northshore Drive.  The meeting location may occasionally change due to weather or other issues.  Information is posted to the KEVA website and KEVA FB group. Bring a chair and join the discussions. 

The Electric Vehicle Association (EAA) is a network of EV enthusiasts and "North America's leading nonprofit that accelerates the adoption of electric vehicles by supporting its 100 chapters and thousands of members as they talk neighbor-to-neighbor in their communities about the benefits of driving electric." The EVA is our parent organization and we are one of two official chapters in Tennessee (along side the Chattanooga chapter). As KEVA – the Knoxville EV Association – we have been around since forming in 2005 and worked since inception to positively impact citizens in the greater Knoxville community to educate them about the benefits of driving electric.
The East Tennessee Clean Fuels Coalition (ETCleanFuels) is one of roughly 90 U.S. DOE "Clean Cities" Programs across the country and serves the eastern half of Tennessee. ETCleanFuels works in partnership with the other in-state program – the Middle-West TN Clean Fuels Coalition – to serve fleets, partners and other entities with services related to education, outreach and implementation of alternative fuels in vehicles. ETCleanFuels has been working with KEVA for over a decade to plan and hold EV "Ride & Drives" and work on EV outreach throughout the region.
The 

Drive Electric TN

 (DET) initiative was born in 2014 by ETCleanFuels to build out educational work to Tennessee citizens on EVs, and work on the Tennessee Workplace Charging Program. In 2017, TVA made a commitment to massively boost the effort and funded several types of work that involved over 100 different people from across Tennessee and beyond to develop the 

Tennessee EV

 

Roadmap

 and other outputs to help us have good data. Since then, three "Working Groups" were started and have developed over 10 task forces or committees to work on specific barrier-removing actions to assist Tennessee in growing the number of EVs in our roads from roughly 10,000 at the start of 2020 to 200,000 by the end of 2028.
Upcoming EVents
Here's a quick snapshot of what we have going on in the next few months.
National Drive Electric Week Knoxville EV Festival 
Saturday September 24th, 2022, 10am-3pm Pellissippi State Community College Hardin valley campus
 This is the largest EV event of the year! Don't miss out. Have you wanted to learn about EVs? This is the best opportunity of the year to see close to 40 different models all in one place! If you already own an EV we would love to have you come out and join us to help us set a record of EVs in attendance!
Come out and test drive some of the newest models.
We will have live music and food available as well.
https://driveelectricweek.org/event?eventid=3284
Bring your EV and come hang out while talking to the public about driving EVs. We will have a test drive area for those that want to experience various new EVs on the market. Music, Food, Fun Games for the whole family. We will have the largest EV showcase of the year with a wide diversity of models, come see the Rivian, F-150 Lightening, EV6, Ioniq 5, and More!
Some hot conversions will be on show as well! We believe this Blazer EV will be ready to go by show time!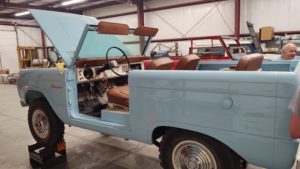 Register today to help us reach a 100 EV goal! We have a huge Space so lets fill it up! https://driveelectricweek.org/event?eventid=3284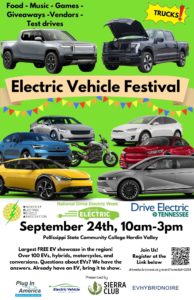 October Monthly Meeting
Saturday October 8th, 2022, 11am 
There will be more information shortly on our October meeting location and agenda.
Our Staple Yearly Big Events

Drive Electric Earth Day (DEED) is a national campaign to share information about electric vehicles throughout the month of April. In addition to being better for the environment, electric vehicles are more fun to drive, more convenient to fuel and less expensive to operate than gasoline vehicles. Attend an online event to experience driving electric!

National Drive Electric Week

(NDEW) is a nationwide celebration to raise awareness of the many benefits of all-electric and plug-in hybrid cars, trucks, motorcycles, and more.  Hundreds of events are held each year, with many in-person events offering the opportunity to talk with EV owners, and to ride in or drive a variety of EVs.  NDEW usually takes place in late September, check the website for current dates

.  Nationally, NDEW is sponsored by Plug In America, Nissan, and the Electric Auto Association.